We all said goodbye to the hectic year 2020 and welcomed another year. Thank you for your favor and we wish you all the best in the new year. In order for you to be know, what is going in Attack, we have decided to prepare a sketch of the news, which you can look forward to in January and February.
We present you a completely new range of Humber Armored Car models. We plan to release it in different versions. As usual, we will be launching the first professional version of this kit. This time it's really a richly equipped kit. The kit is designed so that you can build a model without any accessories, only plastic parts.
For gourmets, of course, there is an opportunity to add more details everything. And so the professional version of the kit will bring a great etching of stacking parts such as thin metal fenders or a metal mat for rescuing a stuck vehicle from sand. Among the cast parts you will find wheels with a deep tread and details for jewelry embellishment. But that's not all. Another bonus is the metal turned barrels of both machine guns.
In January, we will launch the first Humber Armored Car Mk.III version of the British Army Africa & Italy. In February, the Humber Armored Car Mk.II British Army Africa.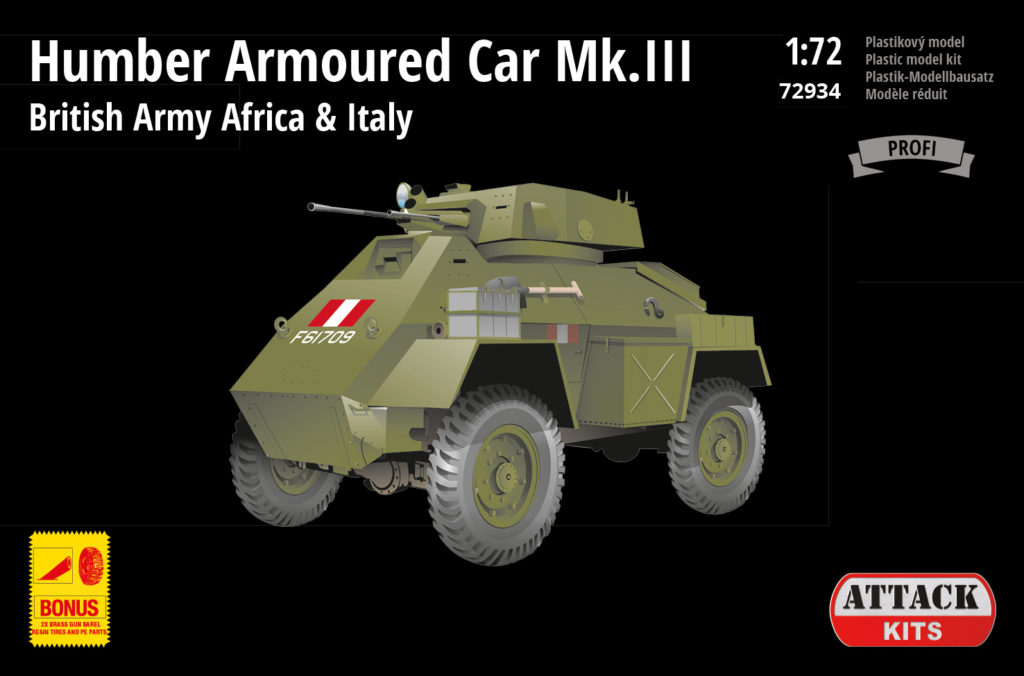 In January, you can also look forward to another, rather unusual, version of the "Granit" van – 72939 Phänomen Granit 25H Propagandawagen. The kit will again contain a full resin interior, including two turntables. Of course, there are resin roof trimmers and a set of etched details for embellishing the car's exterior.
Another big January news are the first two masks of significant production. The first of these (72MASK001) will allow you to mask the windows from the outside and inside of our Phänomen Granit 25H Late Ambulance, Late Utility Car, Radiowagen or Propagandawagen models. The second set (72MASK002) will then allow the windshield to be masked on the L1500A Personnel Carrier. The sets also contain an interesting detail.
If you patinate your cars with dust pigment, be sure to use the parts to create a windshield wiper trace, which is in both sets.
So far, this is an outline of what will be waiting for you from Attack at the beginning of the year. We assume that we will add another novelty in February, but we will keep it in a secret for now 🙂